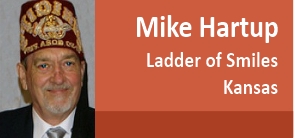 SUPPORT THE LADDER OF SMILES!
As an Oriental Bandsmen, it is our obligation to financially help our children and our hospital. It is up to each bandsman, band, and regional association to provide, in their own way, funds to treat the children that need our help.  Some bandsmen do this by way of a memorial donation or honorarium, a bequest or just a donation.  Some bands pass the fez at their meetings, hold a raffle, or have a fundraising event.  Some associations contribute as well.  The T.A.S.O.B. Mid-Winter Meeting, March 23 – 25, 2018, in Tyler TX, is having a raffle to benefit the LADDER OF SMILES.  At one T.A.S.O.B. Mid-Winter meeting a wagon was auctioned off not once but TWICE, bringing in over $1400.00 (in addition to other treasures in the auction) to help our kids.
What can you do as an individual bandsman, member of a band, or member of an association?
SUPPORT THE LADDER OF SMILES!
The smiles of children DO make it all worthwhile.
See you at the Jamboree in Kansas City, May 4 – 6. 2018!