GREETINGS FROM THE SGT. AT ARMS (PRO TEM) TO THE A.S.O.B.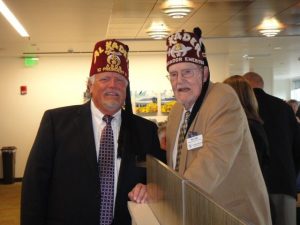 Greetings from the Sgt. at Arms (pro tem) to the A.S.O.B.
I am Ralph Jubb from Al Kader Shrine Center in Portland/Wilsonville, Oregon.
I bring you greetings from the Great Northwest and our Band. With much of what has been going on throughout the country, we are no different, as all of our events, rehearsals, and parades being canceled. Our Band has been doing a great job of holding weekly Zoom Calls for the last 5 months. We have a Booze Bingo each night where the Band gives up to a $50 bottle of booze to the winner, it seems to keep the members joining in the call, go figure. The Zoom type method of communication is a great way to keep your members involved, and I would suggest something like that to all of our bands and associations.
Just a line or two about my history in the Al Kader Oriental Band. I have been a member since about 1991. During my duration, I have been a drummer, musette player, and director along with WASOB President. I served as A.S.O.B. president in 2010 & 11 and hosted the annual meeting in Denver, Co.
Having gone through the line once, serving as a pro tem position hopefully will only be for a short time. As a permanent replacement comes along, I will most gladly mentor that Bandsman for the duration of his time on the line. Please let's step up to help preserve the A.S.O.B.
In closing, I have attached a brief history of our Oriental Band in Portland. It was penned by Robert Parkhill, who was the A.S.O.B. President in 1959-60, back then we were called Organizers. This history was written about 60+ years ago. I would love to see more Bands post their history on our Na Khabar, so please submit.
Until later,
Ralph Jubb
To see that history, you can click on the following link: https://asob.org/al-kader-oriental-band-history/