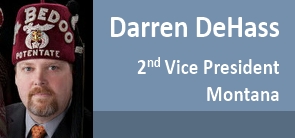 Es salaam Alaikum, again my Brothers!
The Second Annual Kansa City Jamboree is building on the excitements of the first version in 2017. We had great feedback on the good time had by everyone attending and to that excitement we have added two new events for the very first time in the history of the ASOB annual competitions.
First is live entertainment to the choreography and sounds of A'isha. This talented lady from Kansa City is a well-known entertainer about who you can discover on her website at http://www.aishadancer.com/. A'isha wil be featured at our awards evening on Saturday May 5th.
Another exciting addition to our schedule of events is a public performance by the combined group of bandsmen in downtown Kansas City. You will be briefed on the format of this event on Friday afternoon. We intent to Raise the Roof in Kansas City with this event by raising awareness about Shriners Hospital and maybe collect some money for the Ladder of Smiles along the way. We expect and will arrange for full press coverage for this performance format we know you will find exciting. Hold on to you headgear sign up for the Jamboree in Kansas City and come on down and be ready to raise the roof with our heavenly sounds this side of paradise.