Thomas G. Lanier (Tom) (MOSLAH) 2023-2024 ASOB 2nd Vice-President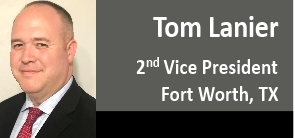 Meet Thomas G. Lanier (Tom), a devoted Mason, passionate musician, and dedicated community leader hailing from Irving, Texas. With 13 years of unwavering commitment to Freemasonry, Tom's journey has been nothing short of remarkable.
Born and raised in the heart of Irving, Texas, Tom began his Masonic journey in 2010 when he was raised in the esteemed Sam P. Cochran Lodge No. #1336 in Dallas, Texas. It was there that he first ventured into the world of Masonry, setting the stage for a lifelong dedication to its principles.
Tom's journey took a musical turn when his cousin invited him to play with the Hella Drum and Bugle Corps at the Texas State Fair. With just one performance, he was hooked, and he joined the Corps, playing his heart out until they gradually folded. His passion for music and his commitment to the craft shone brightly during these formative years.
As life moved forward, Tom embarked on various academic pursuits, transitioning from high school to the Fort Worth Fire Academy and later delving into the realm of environmental science, with a focus on hazmat studies. In 2012, he found love and joy as he married the love of his life, and his family expanded with the addition of two remarkable daughters, Bailey and Ashlyn.
The journey of Masonry continued as he moved to Fort Worth, where, in 2020, he joined the Moslah Shrine. His commitment and dedication quickly became evident as he helped form the Moslah Shifters and, in 2021, assumed the role of president of the club. But he didn't stop there; he also joined the Moslah Clown Unit in 2021 (Taco) , serving as the secretary in 2022. In 2021, he took yet another step in his Masonic journey by joining the Moslah Bedouins. His commitment to the Masonic community and his desire to contribute were further underscored when he became the Secretary for T.A.S.O.B. in 2022 and, in 2023, was elected as the 1st Vice President.
What truly sets Tom apart is not only his dedication to Masonry but also his active involvement in Moslah Shrine and its units. The reason he is a Shriner and a Bedouin is clear: the unique sense of family and togetherness. At Moslah, they are not just a group of individuals; they are a family. The level of family participation, extending to members, their children, and even their grandchildren, is a testament to the sense of unity and shared purpose that makes the unit truly special.
Whether it's brightening the day of children in hospitals, participating in parades, or engaging in various charitable events, Toms and his fellow members are there to bring smiles to children's faces and make a positive impact in their community. He relishes playing in the O.B. (Oriental Band) and looks forward to meeting more bands and nobles in the near future as he continues his journey of service and fellowship within the Masonic community.