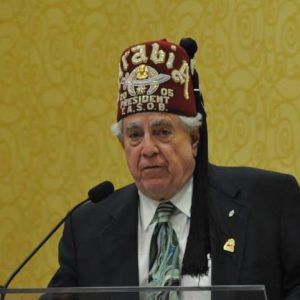 Now that Imperial 2017 is over, I am hard at work putting my staff together. As of today, we have four new Ambassadors: Ed Harvey, Central States; James "Moose" Fitzgerald, Mid West; Dave Cravy, South Central and A.J. DiCaro, Panama. I'm doing my best trying to fill a slot in the Northeast.
We have a new Parliamentarian in Jim Whitehouse (Alzafar) and a new Chaplain in Johnny Wallace (Moslah). Our Ladder of Smiles goal this year is $70,000. That works out to be $800 per Oriental Band. Nobles, $800 per band in my mind is not asking too much. Every Temple has members and spouses that have Birthdays, Anniversaries, Births and in some cases Divorces. What a great way to celebrate those occasions.
Lastly, we are working toward the Jamboree to be held in Nashville, TN during Imperial 2019.1 have secured the Sheraton, Music City for our host hotel. Details will be worked out at a later date. Will let you know.
Have a great summer,
Harry Pressman, President, ASOB