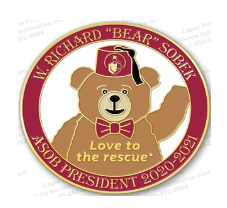 Greetings Band Brothers:
It is now 2020-2021, the year of the Bear.
I would like to begin by saying without all of you out there doing what you do, the
ASOB VISION:
A healthy oriental band community for the benefit of Shriners Hospitals for children, would not exist.
The ASOB Mission:
To provide the tools for fun, music, recruitment and fundraising for the oriental band community, would not be necessary.
I was proud to have spent last year not only as a Member of the Abdallah Oriental Band, but as an officer of ASOB. It was a good time to reflect on how to help all out there to know what ASOB is here to do. It makes me totally aware of what needs to be done on all fronts for each region.
I plan on effecting the parts of ASOB that seem, in my eyes, to have fallen into a crevasse. Too many Bands out there are asking why ASOB exists and what good is it to belong. Please know that just being President does not mean I do not have to sit back and watch more crumbling. I want to get out the gorilla glue and patch the serious holes.
I realize that the current environment is understandably hard on all, particularly when your Temple must temporarily close leaving a gap in sharing. Here at Abdallah, we just last month started Zoom stated meetings and this month Zoom and live stated meeting will take place. Our OB also has rebounded back and had our first meeting last Thursday evening. Sadly, the Music Director, me, could not attend. I have been attending to my Lady following surgery.
Enough of my personal crap. I am here for your Bands personal stuff. Let us all join together and remake what was started MANY years ago and make Shrine Oriental Bands the pride of each Temple.
I am always available and will answer any question or offer any help I am able to. I will rely on my predecessors to help this organization renew and prosper for the future.
From the flatlands of the central states (ASOBCS) I remain,
W. Richard "Bear" Sobek
President, ASOB
Music Director, Abdallah Oriental Band
913-991-1200
lakotavalley@wildblue.net