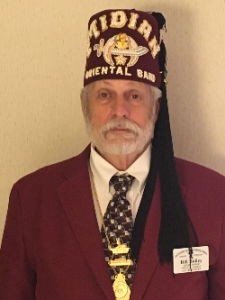 It is great to be part of the ASOB and see things getting better. I am Bill Bailey and was elected to the line a year ago and have been proud to serve on the ASOB line. Now as 2nd Vice President to the association I can see some of the progress Past President Chris Tsaro was putting into action.
I have been in the Shrine since 1996 and have been proud to be the President of 3 different units in that time as well as serving on the Divan for Midan Temple in Wichita Ks. I have also served as the President of the ASOBCS and am currently serving as Secretary\Treasurer for that group.
I spend my winters in Costa Rica and have become very active in both the San Jose Costa Rica Shrine and the Abou Saad temple in Panama City Panama. I am an associate lifetime member to Abou Saad.
If you are a friend of mine on facebook or the ASOB website you have seen me with the President of Panama's wife who is a proud supporter of our Children's Hospital and you have seen me working at the Children's Hospital in Panama City. I will be headed back to Panama in Feb to spend another 4 days working with the Doctors form Shrive Port La. I am a member of Midian Shrine's OB in Wichita Ks and a Charter Member of Abou Saad OB in Panama City Panama.
If you have questions or suggestions on making the ASOB better email me at avenger@cox.net and I will be glad to listen to you.
Bill Bailey