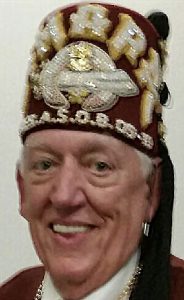 We have just returned from the Imperial Session held in Nashville, TN. The 2018-2019 Annual Meeting was held during the Imperial Session. The Minutes of the Meeting are published below as well as being posted on the website at ASOB.ORG.
The Annual Meeting was well attended by Past Presidents, Ambassadors, elected Officers, as well as several members of member bands. As you will notice in the minutes we are missing the bottom two officers of the progressive elected line, if anyone is interested in serving this Association as an officer, please contact one of the current elected officers.
Congratulations to our Bandsman of the Year, Dr. A.J. DiCaro, for his efforts in getting the ABOU SAAD Oriental Band up and going. ABOU SAAD's Band is our first international Oriental Band. This was an effort of several people but Doc was the leading person in getting the interest started, almost two years ago several bandsmen went to Panama to present the charter to ABOU SAAD.
Congratulations to the KHIVA Oriental Band for another outstanding performance at the Opening Ceremony of the Imperial Session. There were setting around us that we setting very unanimated until the band arrived at the front of the Convention Center by the end of the first number they were all standing and cheering, well through the HEY Tune.
Our Prayers are needed for our Past President, Harry Pressman, who was admitted to the hospital shortly before the Annual Awards and Installation Banquet. He is now at home in Houston after being hospitalized for about a week. Surgery that was scheduled for later in July was canceled until he builds up his strength.
Aleikum Es Selam,
Don Moores